The majority of mainstream home insurers will often not offer buildings and contents insurance on properties which remain unoccupied for a long period of time, often even as little as 30 days. This is because when a property is unoccupied, the insurance companies feel that the likelihood of theft or damage can increase.

There are many reasons why a property may be left unoccupied for a while. These may include the property being a second home or holiday home, foreign travel through work, the death of the owner and the wait whilst probate is granted, or a renovation project which makes the property uninhabitable.

We do however have some home insurers who will consider your application if you are looking to insure an unoccupied property or an empty home.

We work with specialist insurers to find a buildings and contents insurance policy for you.
What we need to know
Our specialists will need to know details of your circumstances and your property, and so it is helpful if you are able to have this information to hand.


Our home insurance specialists will then use their expertise to hopefully find you some buildings and contents insurance.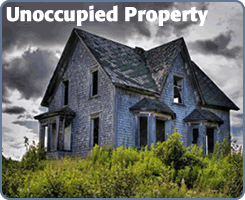 Our normal working hours are : 9am - 5pm Monday to Friday. If you need any help or information please call the number above and a fully trained member of our team will be happy to help you.

You can at anytime enter your details into our secure webform. Just click the button below.

If you prefer to print and send us a paper copy then the link below will open a PDF version of our quote form.

Once you have completed the form you can either send it to us at the address at the bottom of this page, or fax it to us on 0871 277 1422.