NEW !
If you are the policyholder, but you are not the one with the criminal conviction then you no longer need to pay for someone else's mistake.

We now have a policy that will ignore the convictions of people who are not the named on any mortgage or rental agrement, or do not have a financial interest in the property. Call 020 33 555 4831 Now !

The majority of household insurers do not wish to offer buildings and contents insurance to people who have criminal convictions.

You may also struggle to find household insurance if your partner, a family member, or anyone who lives with you has a criminal conviction.

We do however have some home insurers who will consider your application, if a "criminal conviction" is the reason why you've had your insurance declined, refused or cancelled.

We work with specialist home insurers to find an insurance policy for you.
What we need to know

Our specialists will need to know details of your criminal conviction, and so it is helpful if you are able to have this information to hand. We understand that you may find this embarrassing, but please don't worry we are only interested in helping you find insurance.

We only ask questions relevant to the underwriter assessing your situation and deciding to offer you cover.

In particular the underwriter will want to know details about the:
the date of the conviction
full details of the conviction
sentence / community service, or the amount of any fine
time served (if applicable)
Our home insurance specialists will then use their expertise to hopefully find you some buildings and contents insurance.
Whilst you may have to pay more for your buildings insurance than you did before, because of the specialist nature of your case, at least you'll have the peace of mind of knowing you are insured.
If you have a mortgage on your property, it is normally a condition of your mortgage that your home is properly insured. Your mortgage lender will want to ensure that you have a sufficient level of buildings insurance cover.
Frequently Asked Questions About Criminal Conviction Insurance
If I have a criminal conviction or a criminal record, do I have to declare it on a home insurance application form?
If a criminal conviction is 'spent' you do not need to disclose it to household insurance companies. However if you have multiple criminal convictions, you may need to disclose older convictions that would otherwise be 'spent', since later convictions may increase the disclosure period for older offences.


If you have any convictions that are not 'spent' under the 'Rehabilitation of Offenders Act' then you MUST disclose them to your home insurance company.

Further guidance on when a conviction is "spent" can be found on the Criminal Records Bureau website under the Rehabilitation of Offenders Act (ROA) 1974 www.crb.gov.uk

Our household insurers are able to offer home insurance policies to people with a criminal conviction, or people who live with someone with a criminal conviction.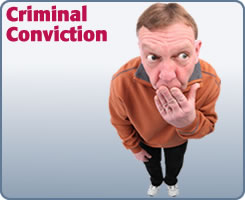 Our normal working hours are : 9am - 5pm Monday to Friday. If you need any help or information please call the number above and a fully trained member of our team will be happy to help you.

You can at anytime enter your details into our secure webform. Just click the button below.

If you prefer to print and send us a paper copy then the link below will open a PDF version of our quote form.

Once you have completed the form you can either send it to us at the address at the bottom of this page, or fax it to us on 0871 277 1422.